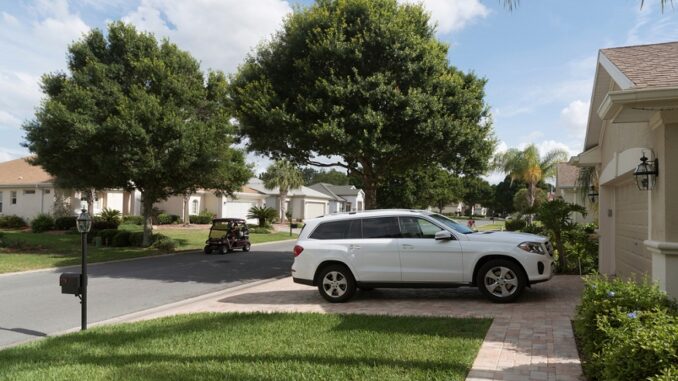 It should come as no surprise that staining your driveway with oil is one of the more common problems that can occur around the home. Your car is there, andit is usually where you'll top up the oil for much of your garden machinery, such as lawnmowers and leaf blowers. All it takes is a few splashes of the sticky, black-staining stuff to miss the funnel and there you have it – an unsightly black smudge on the driveway, reflecting rainbow in the sunlight, and which can be an absolute nightmare to get rid of.
The problem can also be worse if your driveway is some other color than black, which normally means you have concrete, rather than asphalt, pavement. But even with asphalt paving, oil stains will still make for an unsightly blemish that you will want to do something about.
Luckily, there's much you can do, but it requires properly assessing the situation to see precisely what remedy is needed. To make one point to begin with, however: you should always act fast the moment you notice an oil stain,as it can penetrate deeper and set in more stubbornly over time.
Get The Right Tools
Parking Lot Pros, concrete and asphalt paving experts out of Houston, Texas, recommend that the best thing to do when it comes to dealing with oil stains on your driveway is to be ready when they happen. It's quite common problem if you're ever handling oil around your home – or even if the car of a visitor leaks oil unexpectedly – so the trick is to be ready for it. To remove oil stains on any paved surface, always keep the following tools in your garage:
Cat litter, baking soda or cornstarch
A stiff-bristled brush
A broom
Dishwashing liquid
Biodegradable oven cleaner
A garden hose or power washer.
How to Clear the Oil Stains from Your Driveway
It is important to note also that the precise method for cleaning off oil stains depends on what type of paved surface you have. Asphalt and concrete are two quite different materials. They are formed by similar methods, but the compositions are totally different. Concrete is cement, which is a powdery natural substance mixed with water and an aggregate. Asphalt is an aggregate mixed with a sticky black crude oil-derived substance called bitumen. That is two materials of different compositions, particular size, and oil absorbing qualities.
How to Clean Asphalt Driveways
To clean asphalt driveways, you should first take heart that your chances of totally erasing the stain are significantly higher. The first thing to do is to soak up as much of the fresh spill with the cat litter, baking soda, or corn starch. Leave this for a number of hours and then simply brush it away. If the stain or an unpleasant smell persists, then use a warm mixture of water, dishwashing liquid, and baking soda and give it a good scrub with the broom. Afterwards, get your power washer and rinse.
How to Clean Concrete Driveways
For lighter-colored concrete, you are dealing with a much more visible stain. It is also porous and will soak up the oil more efficiently. For these stains, you will need the oven cleaner and the power washer. Start off by soaking up any liquid with the cat litter, then scrub with the oven cleaner and rinse with the power hose.
Depending on the severity of the stain, you could have a big or a small job on your hands. Nevertheless, the problem can nearly always be, at the very least, quite significantly ameliorated.