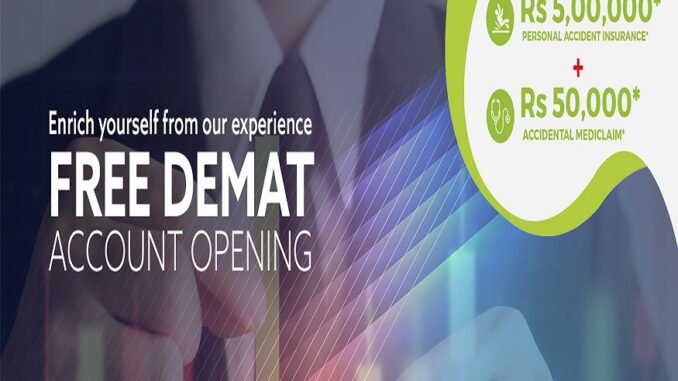 You may have heard the term 'Demat Account' a lot in recent years. If you're wondering how to open a Demat account, let us explain.
What is a Demat Account? 
Demat stands for a dematerialized account. It is a bit like a regular bank account. A Demat account helps an investor or an individual keep their shares and securities in an electronic form. 
It can be bonds, debts, mutual funds, etc.  A Demat account also helps the investor keep track of all investments in shares, debts, bonds, mutual funds, insurance, etc.
For example, if you want to purchase the shares of A company, and when you buy those shares, they have to transfer it in your name. Earlier, an individual used to get share certificates physically, which was time-consuming and involved a lot of paperwork. So, India introduced the Demat Account system in 1996 for trades on NSE to get away with this paperwork.
Today there is no requirement for paperwork, and share certificates are not used anymore. And hence when you buy shares of A company, all you get is an entry in an electronic form in your Demat Account.
What is Dematerialisation? 
Dematerialization is nothing but converting the physical share certificates into an electronic form. It helps an individual maintain and access them from anywhere around the world. The arrival of a Demat account has made it easier for individuals to handle shares. An individual or investor who wants to convert his physical shares into electronic form needs to open a Demat account with a depository participant (DP).
Types of Demat Accounts
 Now that we are clear about what a Demat account is, let's look at the types of Demat accounts. There are mainly three types:
Regular Demat Account: Regular Demat account is for Indian citizens who reside in the country.
Repatriable Demat Account: This account is for non-resident Indians, enabling them to transfer money abroad.
Non-Repatriable Demat Account: Again, this is for NRIs. However, fund transfers abroad are not feasible with this form of Demat Account.
How to Open a Demat Account? 
Investing in shares requires having a Demat Account. There has been a drastic change in the savings pattern among Indians from fixed deposits to stocks and shares, increasing the number of Demat accounts. It has also become popular to open a Demat account in recent years.
Let's have a look at how to open a Demat account.
Many banks and financial institutions provide the opportunity to register a Demat account. Still, you may start a free Demat account with IIFL Securities and receive guaranteed rewards of up to Rs 10,000.
To open a Demat account with IIFL Securities, visit IIFL's website and open the account opening form.

Enter your details like name, email Id, phone number address, PAN number, etc.

Then, upload your  KYC details for identity verification.

E-sign the form through Adhar linked mobile number.

After applying, you will receive a confirmation regarding your account opening, along with your login details.
Reasons to Open a Demat Account with IIFL Securities
Opening a Demat account is a very seamless and hassle-free process. The following are why you should consider opening an account with IIFL Securities.
Single account for all your investment goals
You can invest in equities, mutual funds, IPO, etc., easily one at a place with a Demat account and achieve your financial goals.
A hassle-free Trading platform
IIFL Securities Demat account seamlessly links your trading and bank accounts to provide a hassle-free investing and trading experience.
Customized portfolio management services
IIFL Securities provides customized portfolio management services depending on your risk tolerance. It also analyzes and adjusts your portfolio regularly to meet your objectives.
Apply for IPO before anyone else
The IIFL Securities Demat account allows you to bid on the IPO before opening for a subscription and also help you out with best stocks to buy today. The provide various services which you can avail.
How to Use a Demat Account?
Using a Demat account is relatively easy. First, your Demat number gets linked with your trading account, which later gets linked to your bank account. Then, you need to transfer your fund from your bank to the trading account to start trading. After adding your funds, you can buy and place your orders using your trading account. Following the execution of the order, the shares will get transferred to your Demat account within two days. Because the Demat and trading accounts are so tightly linked, these transactions place quickly and effortlessly. Similarly, you may sell a share in your Demat account by using your trading account to place a sell order on the stock exchange.
You may start your road to wealth development by taking advantage of the rising capital market. Your first step should be to choose a reliable financial partner who offers a variety of benefits, such as an accessible trading platform and individualized portfolio analysis, and to see if they provide depositories' services, such as NSDL and CDSL.